The Seasonal Jewish Kitchen: A Fresh Take on Tradition (Sterling Epicure, 2015)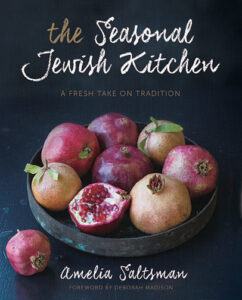 Amelia Saltsman was inspired to write The Seasonal Jewish Kitchen after she shared her recipe for roasted carrot and sweet potato tzimmes on social media, and it went viral. So did a blog post on leek and green garlic matzah brei, and a photo of homemade gefilte fish. "In that instant that tradition and technology collided, it dawned on me that many cooks are seeking the kind of Jewish cooking I do: modern, seasonal, ingredient-driven, lighter and brighter, relaxed rather than formal, and reflective of the many flavors of the Jewish Diaspora," she writes.
So Saltsman penned this gorgeous, 150-recipe cookbook, with photography by Staci Valentine. She divides it into micro-seasons, starting with September and October, the beginning of the Jewish year. Known for writing The Santa Monica Farmers' Market Cookbook, Saltsman is inspired by the farm-to-table movement, and she presents new ways to use Old World ingredients, such as buckwheat, home-cured herring and gribenes (poultry skin cracklings with onions). With suggested menus for Jewish holidays and such tips as "The Art of Perfect Latkes," The Seasonal Jewish Kitchen celebrates the diversity of Jewish food with modern recipes, while connecting ingredients to their ancient roots.
GIN: The Art and Craft of the Artisan Revival in 300 Distillations (Jacqui Small, 2015)
If you're among the ranks of gin aficionados—a group that has included Winston Churchill, Frank Sinatra and Humphrey Bogart—this book is for you. Author Aaron Knoll traces the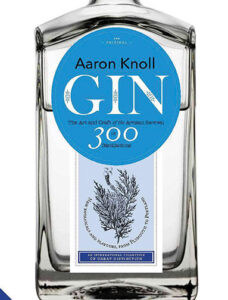 history of gin back to the origins of the juniper plant, to the "juniper berry waters" of 16th-century Germany, to its popularity with the British Royal Navy in the 19th century, when sailors would combine it with Rose's Lime Juice to ward off scurvy. The spirit went out of favor in the 1950s, however, as vodka gained popularity in its place. It made a comeback in 1987 with the launch of Bombay Sapphire, and today is undergoing another revival in the hands of craft drink-makers.
Knoll has compiled notes on 300 of the world's best gins, and included more than 50 gin cocktail recipes, from an Old-Fashioned to a Singapore Sling. Readers will also learn about the importance of botanicals to new artisan recipes, how gin is made, how to conduct a proper gin tasting, and which bars are the top gin joints in all the world. Here's looking at you, kid.